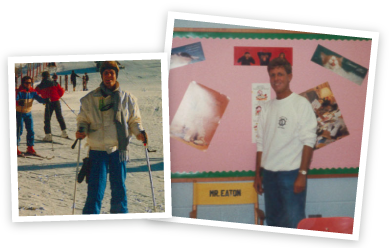 Ken's Story
Franklin Kennedy Eaton, Jr. was a father, a son, a brother, an uncle, an educator, and a mentor.
Who was Ken Eaton?
Born March 28, 1946 to Franklin Kennedy Sr. and Gloria Eaton of Manhassett, New York, Ken was the oldest of three brothers. Together with his parents and brothers, Tom and Bruce, Ken move to Houston, Texas in the early '60s, where his father worked for the Exxon oil company.
In 1964 Ken moved again, this time to attend college. He enrolled at Drake University in Des Moines, Iowa and became a member of the Alpha Epsilon Pi Fraternity. He decided to pursue a career as an educator. Ken graduated with a Bachelors of Science degree in Education, and later received his Masters of Science degree in Secondary Education and Administration.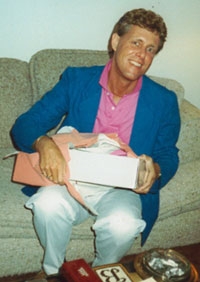 Ken got his first teaching job in 1968, and taught until the day of his murder in 1988. For 20 years "Mr. Eaton" was an English, and Speech and Drama teacher at Brody middle school in Des Moines.
Ken enjoyed teaching. He loved being with young people and watching them learn and become confident in expressing their talents. Each spring all the kids anticipated his "productions. Ken's "THE ACADEMY AWARDS" highlighted a year of hard work by the kids. He hosted a red carpet evening and awarded students acting trophies. Parents were included and everyone was guaranteed a great time. That was what Ken was all about family, fun and living life to the fullest. Ken was so loved by his students that they presented him with a yellow director's chair with his name on the back. He cherished that chair.
At the end of the Vietnam War, then Iowa governor Robert Ray established a policy of settling the Indochinese refugees in Iowa. Ken answered the call to help and began teaching ESL (English as a Second Language) to Vietnamese refugees during the summer months. Ken felt it was a deeply rewarding experience to teach new Americans what it is to be an American.
Of his many achievements, Ken was most proud to be a father to his two beautiful daughters, Jennifer and Kristin. Ken had met their beautiful mother at Drake and they married soon after graduation in 1968.
Ken, was a homosexual man. In 1968, he lived a secret life. But as society changed, Ken was able to change with it and live his life as he truly was. He needed to live his life, not a lie. In 1980 he and his wife divorced. The girls lived with their mom and like many divorced children, visited their father once a week and every other weekend. In 1983, his ex-wife moved to Florida with his daughters. Soon after, Ken began living with his partner Ed.
In the summer of 1985, Jennifer came back to Iowa to live with Ken and Ed. They were a loving family. Each day brought this unconventional arrangement something new and exciting. This lasted until the beginning of 1988, when Ed moved out, and drastic events were about to unfold for Ken and Jennifer.
February 12 and 13, 1988 were the last days of Ken's life. He started this Friday evening doing what he loved, going out for a nice meal and then to the theater with friends. Afterward, Ken went to an area in Des Moines known as the "gay loop." There he met the two men who would take his life. Gary Titus and Billy Green were 19 and 20. Ken invited them back to the apartment, and sometime in the early morning of Saturday, February 13, the two men murdered Ken simply because he was gay. Both are now serving life sentences without parole under Iowa law. Jennifer was in the apartment sleeping in the next room when this happened. Only God knows why she was spared.
At the age of 41, Ken was tragically murdered because of hate and ignorance. His memory lives on through both his daughters and their six children. Ken never had the opportunity to meet or know his grandchildren. He also has two surviving brothers, as well as several nieces and nephews.
Franklin Kennedy Eaton Jr. was a teacher and mentor to hundreds and he is fondly remembered by of all his students. Many of them have shared stories of how "Mr. Eaton" affected or changed their lives. They talk about how cool he was, and how easy he was to talk to––as well as his sense of style (his choices in clothing were usually pastels)!