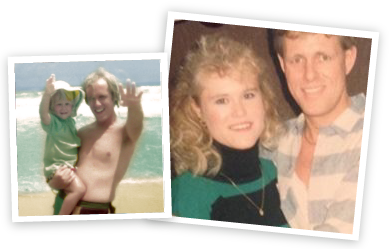 Jen's Story
This is the story of a man's life and death. It is my story, the story of my father, and how the events that ended his life affected mine.

My name is Jennifer Eaton-Bertagnolli. Franklin Kennedy "Ken" Eaton Jr. was my father, and this is our story.

» Valentines for Victims - WHO Des Moines
» Jennifer speaking at the Victims Rights Ceremony at Fort Des Moines
» Jen on Crime Victims, Part I - KCCI Des Moines
» Jen on Crime Victims, Part II - KCCI Des Moines
» See Jen on Channel 8 News
» See Jen on Oprah
» Jennifer confronts her father's killers
About My Dad
My father was born on March 28, 1946, to Franklin and Gloria Eaton in Manhassett, New York. He was the oldest of three brothers, all of whom became educators. My paternal grandfather worked for the Exxon oil company, and when my father was a teenager, the whole family moved to Houston, Texas for my grandfather's job. A few years later my father moved to Des Moines, Iowa to attend Drake University. That is where he met my mother. Two weeks before my mom and dad were to be married, my dad's mother died of cancer.
My Childhood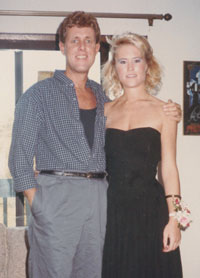 My parents married in July of 1968, and I was born February 24, 1970. I really don't remember much of my childhood until I was about 10 years old. That is the year my parents divorced. In 1980, my Dad moved out and my sister and I lived with my mom. We saw my dad one day a week and every other weekend. Then we moved to Florida, and I saw my dad a lot less. When I was 14, I moved back to Des Moines to live with my dad in his apartment.
My father was a teacher at Brody Middle school in Des Moines, where he taught speech, drama, and English to 7th, 8th and 9th grades. He taught at Brody for 20 years before he was killed. As a teacher he influenced hundreds of children in his 20 years, many of whom I have met. They tell me just how much my father meant to them.
Friday, February 12, 1988
In 1988, I was a senior at Valley High school in West Des Moines and I lived with my dad. My dad and I were the BEST of friends. We did everything together. He understood me and I could talk with him about anything. I still talk to him to this day. When he died or should I say murdered, my life ended. I not only lost my father, best friend,my home/our home, but everything I knew life to be. I was 17 years old.
My father was a proud homosexual man. Society had changed enough to allow him to live life as he was. He could live his life and not a lie. But not everyone was accepting of his lifestyle. On Friday February 12, 1988, my dad and a friend had gone to a play and dinner. My dad loved the theatre. I had stayed home, and around 2:30-2:45 a.m., I heard my dad and some other people come home. He came into my room and said, "Jen, I am going to have some people over," then he said, "I love you, I will see you in the morning." He shut my door, I rolled over and fell asleep, and I NEVER saw him again.
On the morning of Saturday, February 13, 1988, I found my father. He had been beaten, sliced on his face and stabbed through the heart with the biggest butcher knife we had in our kitchen. I became hysterical, OUT OF CONTROL!!, not knowing what had happened just hours before. Who had been with my father?
The Aftermath
Ten days later (my father died 11 days before I turned 18 years old) two boys were arrested and charged with first degree murder — Gary Titus and Billy Green. They were 19 and 20 years old, and lived with an immense hatred for GAY people. This was a HATE CRIME.
Gary and Billy were convicted and are serving life sentences in the State of Iowa. Gary is at Anamosa state prison and Billy is at Clarinda state prison. Both of these men have since been married while incarcerated. Gary filed for parole in February of 2002 and was denied. He can re-file and go up again in 2012. Gary feels he has done his time.
I pretty much put these two men out of my mind and was trying to get on with my life, but something was always nagging me in the back of my mind. What really happened that night? Why my father? Did he fight back? Why wasn't I killed also…was asleep in the next room? There were so many unanswered questions that I would probably never know the answers to. I felt there was this huge hole in my life.
In early 2001, a woman named Betty Brown contacted me from the Iowa Department of Corrections and asked if I would like to take part in a program called "Restorative Justice." This program allows victims of crime to meet face to face with the perpetrators of the violent crimes against them. Usually a victim is the one who initiates the contact, but in this case Gary initiated contact, with the ultimate goal of getting forgiveness and having me be his advocate for commutation of his sentence. Initially I wanted nothing to do with the killers of my father, but started thinking, "This could be good, I can get some answers, and I can fill this void."
I met with Gary when he was at the medium security prison in Newton, Iowa, in 2001. It was not the best of situations. We felt that we were given half truths and outright lies from Gary. I walked away with still burning questions that needed answered.I then I met with Billy at the maximum security prison in Ft. Madison, Iowa in 2005. This was recorded for A&E network, and shown on a program called "Confrontation." I read a statement to him, and then asked questions hoping to get the answers I needed. He also was allowed to make a statement and offer his apology for killing my dad. After meeting with Billy, I felt a sense of relief and partial closure. After the A&E program aired, Oprah Winfrey contacted me to come on her show to discuss the whole process.
It had taken 15 years for me to be able to meet with my father's killers. I had to do a lot of soul searching, prayers, and most of all, ask for GOD'S grace. Without any of that I could not have met with them. GOD has seen me through the rain and the storms in my life. No one asks for the violent death of a family member, but it was given to me, by God. He has a plan for me. So after praying, I felt God wanted me to give my father's murderers something...forgiveness. With God's help, I have FORGIVEN them both!
My Life Today as a Victims Advocate Speaker
As a victim advocate, I speak at prisons and at DUI classes on what is called "Victim Impact Panels." That is where I share the story of my father, my life, and how this murder/hate crime has affected my life. I also speak about my children, my friends…life in general, and GOD. I speak of whatever comes from the heart. I am trying to plant a seed into someone's life to help anyone who needs help. It is so gratifying to have complete strangers come up to me and tell me how much my father, and now I, have affected their lives.
This journey has taken me to places I never thought possible. I have met people who have touched my life in so many ways it is unexplainable. There truly are ANGELS among us, and you NEVER know who that might be. I have been to six of our ten prisons here in the State of Iowa. I have spoken to hundreds of DUI offenders. I had a camera crew from A&E in my home. I have been invited on the Oprah show. Now I have been asked to be on the State of Iowa's Victim Advisory Board, where I will become the voice for victims. Victims who feel they do not have a voice. Ironically, I have been blessed through this tragedy. It has touched and changed my life FOREVER.
I choose to be a survivor.
Save
Save
Save